WHAT'S NEW: FISHER GLEN AT THE OTTAWA HUMANE SOCIETY!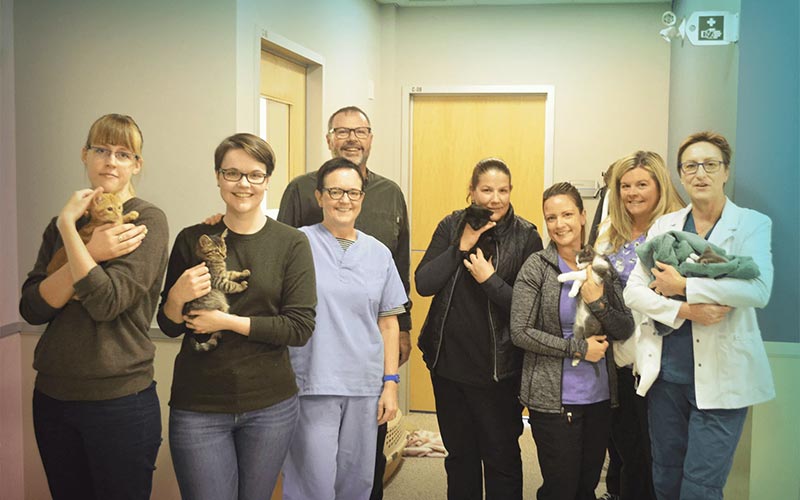 What's New: Our Day Volunteering At The Ottawa Humane Society
The team at Fisher Glen Animal Hospital recently spent the day volunteering at the Ottawa Humane Society on November 4th to help out some animals in need! We here at Fisher Glen greatly admire the Ottawa Humane Society and all the amazing work they do for animals. We were proud to volunteer our veterinary services for a such a good cause! Above all, we loved helping some adorable cats get one step closer to becoming adopted by a loving forever family!
Having local veterinarians donate their time can really help the Humane Society deal with backlogs of pets at their facility. Once a veterinarian completes a pet's surgery, that pet is almost ready for immediate adoption. Throughout the day our team did twenty spay and neuter surgeries, as well as two dental procedures. It was a fun day and our team worked like a well-oiled machine. We've even begun dubbing it the 2018 spay-and-neuter-a-thon!
The Ottawa Humane Society is a non-profit, community-based organization and a registered charity. They are the leading organization who provide a safe haven for sick, injured and homeless animals in Ottawa. If you'd like to learn more about local animals in need, check out their page on Adoption at the Ottawa Humane Society! You can browse pictures and learn more about all kinds of animals currently in need of a forever home. Who knows – you just might find a new little buddy who's a perfect fit!
Contact Us if you have any questions, or if you'd like to make an appointment today!