FREE PUPPY AND KITTEN KITS FROM FISHER GLEN ANIMAL HOSPITAL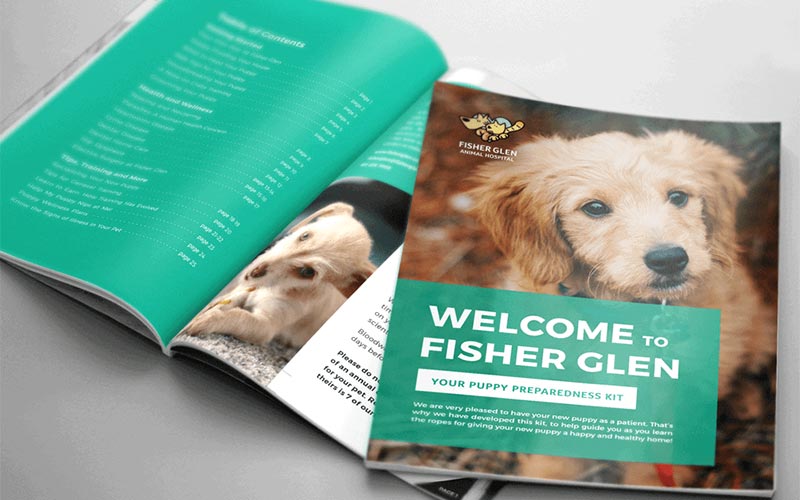 Free Puppy or Kitten Kits from Fisher Glen Animal Hospital
Have you recently decided to bring home a new puppy or kitten? Then this post is for you! First of all, we would just like to say we are so pleased to have your new puppy or kitten as a patient. Welcome to Fisher Glen Animal Hospital, and never hesitate to Contact Us if you have any questions at all. We are always more than happy to help!
Everything You Need To Know When Bringing Home a New Puppy or Kitten
There is a lot to know when you are bringing a new puppy or kitten into your family. That's why we have developed our Puppy and Kitten Kits, to help guide you as you learn the ropes for giving your puppy or kitten a happy and healthy home. It covers everything from the basics of getting started, to important health concerns, to tips and care guides. In the past these kits were included in a care package given to clients who brought their new puppy or kitten into the clinic. However, with the pandemic still ongoing, we have decided to give them away online, totally free!
We suggest reading through the kits in their entirety now, and also saving them or bookmarking this page to use as reference material later on. We hope that you will find the kits to be both helpful and informative.
Download your free Puppy Kit or Kitten Kit today!
Not Adopting a New Puppy or Kitten?
That's okay – we have something for your too! Check out our adult pet care kit. Or for those with an older pet, click to download our new senior pet kit! And as always, if you have any questions feel free to Contact Us today!
The COVID-19 situation is constantly evolving. Because of this, please watch our COVID-19 updates space for all the latest news on clinic policies and services. And to view the latest COVID-19 updates here in Ottawa, visit the Ottawa Public Health Website. You can also check out our Veterinary Services section to learn more about everything we do here at Fisher Glen. And as always if you have any questions or would like to book an appointment with Fisher Glen Animal Hospital, please don't hesitate to Contact Us Today!