KEEP YOUR PETS SAFE FROM THESE HOLIDAY HAZARDS FOR PETS!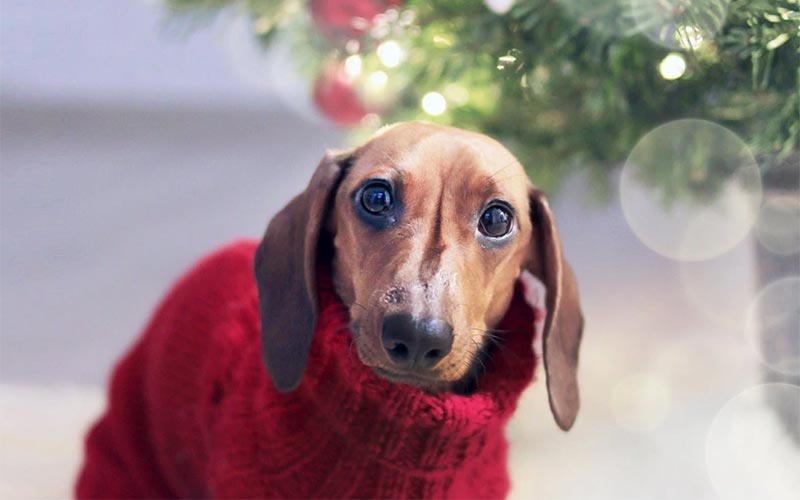 Holiday Hazards for Pets
Every year at Fisher Glen Animal Hospital, we always see a few pets due to holiday-related mishaps. That's because some Christmas staples that may seem harmless can actually cause a great deal of damage. Follow these tips to avoid the most common holiday hazards for pets!
Chocolate: Chocolate is a staple of Christmas time. What would the holidays be without it? But while you're unwrapping your presents or emptying out your stockings this year, make sure that you take the time to move all chocolate out of easy to reach areas. Chocolate is extremely toxic for both cats and dogs. Particularly hazardous are dark chocolate, baking chocolate and cocoa powder.
Tinsel: Cats love to play with tinsel. But be careful – because if swallowed, tinsel can lead to vomiting, dehydration, and an obstructed digestive tract which may require surgery.

Poinsettia: Poinsettia can be toxic to pets – so avoid this plant if you've got furry friends running around your home! Mistletoe and Holly can also be hazardous. Stick to fake plants, or keep them where pets can not access them.

Ornaments: Keep ornaments well affixed to your Christmas tree, preferably out of reach of your pets. Breakable ornaments can shatter and cause damage to your pet's mouth and digestive tract.

Turkey Bones: Many people think that turkey bones are fine to give to pets… But the truth is, cooked bones can easily splinter and cause severe internal damage for your pets. If you want to give your pet a little extra something for Christmas, stick to dog cookies, a new store-bought chew toy, or catnip!

It's been a trying year for all of us. And with the new Ontario lockdowns beginning soon, this pandemic is far from over yet. But we here at Fisher Glen Animal Hospital wish all of you a Merry Christmas, Happy Holidays, and a Happy New Year! We hope you and your family are able to enjoy the Holiday season this year, and above all, stay safe!
For more Winter pet safety information, check out our Cold Weather Pet Safety Tips! You can also check out our Veterinary Services section to learn more about everything we do here at Fisher Glen. And as always if you have any questions or would like to book an appointment with Fisher Glen Animal Hospital, please don't hesitate to Contact Us Today!