COVID-19: WHAT YOU NEED TO KNOW, FROM FISHER GLEN ANIMAL HOSPITAL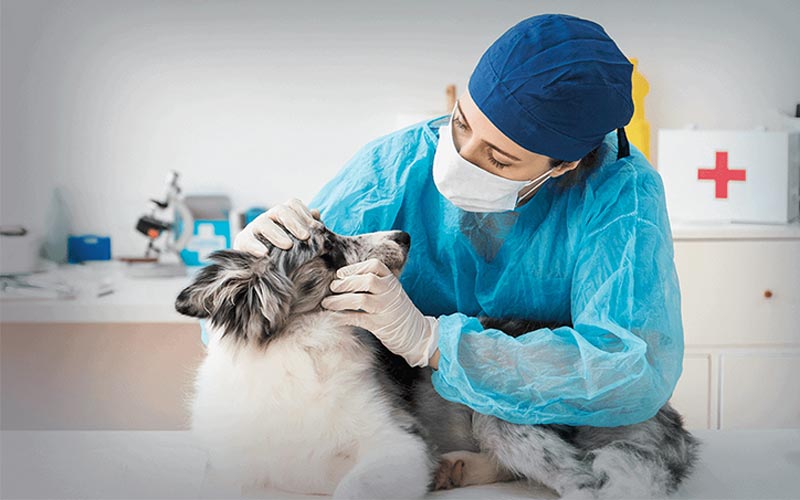 Reopening Plan: Thank You For Your Patience
With restrictions being lifted and an increasing number of businesses reopening, we wanted to keep you, our valued client, updated on Fisher Glen Animal Hospital's reopening plan. Our top priority remains safeguarding the health and safety of our clients and staff, all the while continuing to provide outstanding patient care.
As a healthcare provider, factors such as waiting and exam room size, air flow and the ability to maintain safe distancing during your pet's examination are all factors that play into our reopening plan. Also, given the newness of the COVID-19 vaccine, variants of concern and the potential for a fourth wave, our clients and staff are expressing vastly different comfort levels with respect to physical distancing.
While a reopening plan is in the works, we continue to take a cautious approach. When we do reopen, here are some of the things you can expect:
The number of concurrent client visits will be restricted to respect physical distancing.
One client will be allowed per patient.
The wearing of surgical masks will be mandatory. Masks will be provided by the clinic.
COVID-19 screening will be in place for all visitors.
Hand sanitizing stations will be readily available throughout the clinic.
Curbside service food and medication pickup will remain available.
Curbside drop off will remain in place and clients will continue to have the option to virtually participate in appointments via a clinic-supplied tablet.
We thank you for your continued encouragement and support. As with you, our team looks forward to the day when they can safely welcome you back into Fisher Glen Animal Hospital.
COVID-19 Protocols
Hello from all of us here at Fisher Glen Animal Hospital! We hope you are all doing well and being safe at this time. As you likely already know, the World Health Organization has officially assessed COVID-19 as a pandemic. Because of this, we wanted to give you a run-down on best practices, in clinic policies, and tips for taking care of yourself and your pets at this time. Here's what you need to know.
Because we are now past the point of containment when it comes to the Coronavirus outbreak, our efforts are now best spent on ameliorating the situation by flattening the curve, (or minimizing transmissions) in order to give our healthcare system the best chance at not being overwhelmed by incoming cases in the near future. Ottawa Public Health is now recommending that all residents of Ottawa practice social distancing. Social distancing involves taking steps to limit the number of people you come into close contact with, in order to decrease the spread of COVID-19 in Ottawa and protect those who are most vulnerable.
What Does Social Distancing Look Like?
Talk to your employer about working from home if at all possible.
Avoid non-essential trips in the community.
Limit or consider cancelling group gatherings.
Whenever possible, maintain a distance of 1-2 meters from others when out in the community.
How to Be Prepared
First of all, cover your cough and sneeze with a tissue into your arm, not your hand.
Secondly, practice good hand hygiene. Wash your hands frequently, avoid shaking hands, and clean and disinfect frequently touched surfaces.
Gradually stock up on essentials such as non-perishable foods, medications, hygiene products, pet foods and other pet needs such as litter and medications. You want to prepare now so that in the event you do get sick you can effectively self-quarantine, without having to go to a crowded supermarket while you are experiencing symptoms. Avoid panic buying.
Above all, stay home if you are experiencing COVID-19 symptoms, and make a plan now to follow in the event you do get sick. You can read more about how to be prepared on the Government of Canada website.
What We're Doing at Fisher Glen Animal Hospital to Keep You Safe
October 9th Update: Fisher Glen Animal Hospital is now back to COVID hours, Monday to Friday 8am – 5pm for drop-off appointments. Please note we are also closed daily from 12:30 – 1:00 for lunch. We are seeing all patients.
In addition to this:
Please call ahead. We will be seeing sick pets on an appointment only basis. Owners will be emailed a questionnaire when the appointment is booked.
To ameliorate the risk of community spread, we will be admitting pets through our front vestibule, and we ask that you wait in your car. Clients will be provided with an iPad to Facetime in during the examination. We will take payments over the phone.
Likewise, we ask that you call ahead for pickup of any food/medication. We will place your order in the front vestibule ahead of your arrival.
Our online web store is an available option to have veterinary foods/supplies delivered right to your door. Contact us for more information.
If you have recently returned from out of the Country or are clinically ill, we ask that you do not come in to the clinic. Please follow Ottawa Public Health's guidelines on self-isolation.
Remember that COVID-19 does not affect cats and dogs. According to the World Health Organization the risk of them passing the virus to you, or vice versa, is extremely unlikely.
The current situation with COVID-19 is constantly evolving. Because of this, we will continue to communicate with you on any changes to our COVID-19 plan. Follow us on social media, check our phone voicemail, or watch this space for future updates. And as always if you have any questions, don't hesitate to Contact Us. We are happy to answer any questions you may have.
Remember, we are all in this together. Stay safe out there!